Donate to MACS
Your generous donation can help MACS to continue to deliver services and support people with disability in innovative ways that regular government funding does not allow. All donations of $2 or more are tax deductible.
---
Join our Team
We are regularly looking to grow our team by recruiting new Personal Care Attendants (PCA's). Our PCAs assist people with a physical disability to live independently in their own home and the broader community by providing personal care, domestic assistance and community access.
Benefits of working with us include:
Making a real difference to the lives of people with a physical disability
Flexible hours including, day, evening and overnight shifts, weekday and weekend work
Salary Packaging – we offer permanent staff the opportunity to receive a component of their salary tax free.
Employee Assistance Program – giving confidential support and advice when you need it. 24 hours a day 365 days a year.
In-house training
Membership with the Paraplegic Benefit Scheme.
We are an equal opportunity employer and we actively recruit a diverse workforce. We value staff from all cultural backgrounds.
Submit an Expression of Interest in future opportunities with the MACS Team by using the enquiry form on our contact page. Tell us why you would you like a position with MACS.
---
Membership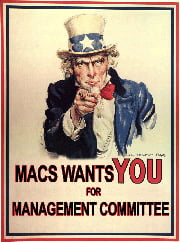 MACS membership is open to everyone – people with a disability, family members, friends, supporters. Everyone is welcome!
Membership for someone with a disability is $10 per year. All other membership is $15 per year.
To join or renew your membership, please download and complete a Membership Application.
MACS Management Committee is made up of 50% people with a disability.
---
Volunteer
Did you know that just a few hours of volunteer work can boost your mood and increase your happiness.
Volunteering with MACS is also a great way to get involved in your local community, make a difference to the lives of people with disabilities and their families, and have loads of fun.
You can also gain valuable work experience and increase your career opportunities.
Contact us to find out more about volunteering opportunities.