Donate to MACS
Your generous donation can help MACS continue to deliver services to, and support people with, physical disabilities in ways that regular government funding often does not. All donations of $2 or more are tax deductible.
---
Become a Member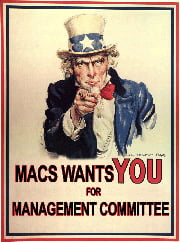 MACS membership is open to everyone – people with a disability, family members, friends, supporters. Everyone is welcome!
Membership for someone with a disability is $10 per year. All other membership is $15 per year.
o join or renew your membership, complete a Membership Application and send it to macs@macsinc.org.au.
50% of MACS' Management Committee is always composed of people with lived experience of disability.
---
Volunteer With Us
Did you know that just a few hours of volunteer work can boost your mood and increase your happiness?
Volunteering with MACS is a great way to get involved in the community, make a difference to the lives of people with disabilities and their families and have loads of fun.
You can also gain valuable work experience and increase your career opportunities. Contact us to find out more about volunteering opportunities.